18 March 2019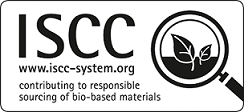 International Sustainability & Carbon Certification
and is a global certification system
used in over 100 countries,
with over 3000 system users
and more than 15,500 certificates issued.
The certification is verification that our products
are sourced and produced sustainably
and is a way of securing that
the Green House Gas (GHG) emission calculations
are done correctly with proof of every input used.
Perstorp is the first chemical company to gain
Best of all each certificate highlights the CO2 savings
you contributed to through each of your purchases,
and show that our products live up to
the requirements for a more livable future.
DETAILS
As the global demand for pentaerythritol ("Penta")
keeps growing,
Perstorp is increasing the effective
annual Penta production capacity
at its Bruchhausen/Arnsberg plant in Germany by 12.5%.
The Penta polyols are widely used in resins for coatings
in the building & construction and steel works industry,
from architectural wood to marine paints.
*************************************************
Jan Secher,
President and CEO at Perstorp
"With Voxtar, back in 2010, we were
the industry's first supplier to launch
a renewable Penta,"
"In 2018, our Pro-Environment Polyols was honored with
a Frost & Sullivan European
Bio-Based Materials Product Leadership Award.
This and the recent ISCC certification of our Bruchhausen site
and the addition of three new Pro-Environment families
as well as full suite of Services underscores
our committed support for advancing the circular economy
by shifting towards raw materials
derived from renewable and waste sources."
*************************************************
Ulrika Andersson,
EVP Business Area Specialty Polyols & Solutions at Perstorp
"Our plant has successfully obtained
the ISCC PLUS International Sustainability Carbon Certification,
an important milestone in
Perstorp's ambitious Pro-Environment quest
to become Finite Material Neutral.
The expansion work at Site Bruchhausen
started in June 2018 and
is well on track for completion in May,"
"The added capacity and ISCC certification
of Site Bruchhausen as well as
introducing Voxtar™ production in Bruchhausen
will significantly extend the security of supply of
Voxtar™ ensuring a continued security
to meet our customers increased demand of
Pro-Environment Polyols",
Together with the company's
Stenungsund and Perstorp sites in Sweden,
Bruchhausen is now a part of Perstorp's strategic shift
from fossil to renewable raw materials and energy.
The independent third-party ISCC certified products
comes with a Proof of Sustainability document
which states the products contribution
to sustainable sourcing
according to the certified mass balance system.
Contact Perstorp
Malin Johansson
Corporate Communications Manager
Tel. +46 40 635 88 44
WWW.CHEMWINFO.COM BY KHUN PHICHAI